Important Notice:
1. Visitors are only allowed to enter Beijing Forbidden City through the Meridian Gate (south gate) and leave from the Gate of Divine Might.

2. The Forbidden City is closed on Mondays (except for national holidays and summer vacation from July 1st to August 31st) out of relics protection and renovation.
Offering comprehensive information on the Forbidden City where twenty-four emperors reigned over the country for over 500 years.
The Forbidden City, also named the Palace Museum, shares the honor of being one of five world-famous palaces with the Palace of Versailles in France, Buckingham Palace in England, the White House in the U.S. and the Kremlin in Russia. The palace, the most magnificent and splendid palace complex in China, was listed as a World Cultural Heritage Building in 1987. It was built in the Ming Dynasty (1368-1644) and the construction of this group of buildings took fourteen years from 1406 to 1420. In the Ming Dynasty and the Qing Dynasty (1644-1911), it was the imperial palace where twenty-four emperors ascended the throne and exercised their strong power to the nation.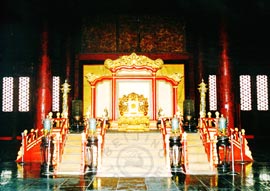 The incomparable palace occupies an area of 720,000 square meters (177.9 acres) and has approximately 8,700 rooms. A high red wall with a total length of 3,400 meters (3,718 yards) encases the palace. There are four gates in each side, with Meridian Gate (Wu Men) as the main entrance. Four exquisite watchtowers sit at the corners of the wall. With roofs covered with golden glazed tile, red painted walls and grey-white bases, the rectangular palace appears extremely luxurious and grand. Spectacular halls in it are neatly arranged in bilateral symmetry along a central axis that conforms to the axis of Beijing City.
The palace has two primary parts: the Outer Court and the Inner Court. Some halls are converted into art galleries to exhibit paintings, clocks, bronze wares, pottery and other invaluable treasures. It is said that there are over 1,000,000 articles in this museum that account for one-sixth of such national treasures. Tourists can enter into the palace from the Wu Men (Meridian Gate) or the Shenwu Men (Gate of Divine Might). It is impossible for visitors to see every corner of the palace in a single day.
Let's start our virtual guide from the Wu Men to make our route clear.
Forbidden City Attractions
Meridian Gate & Gate of Supreme Harmony
Hall of Supreme Harmony & Hall of Central Harmony
Hall of Preserving Harmony & Huge Stone Carving
Gate of Heavenly Purity & Hall of Heavenly Purity
Hall of Union and Peace & Hall of Earthly Tranquility
Hall of Mental Cultivation & Hall for Ancestral Worship
Six Western Palace & Six Eastern Palaces
Palace of Tranquil Longevity & Hall of Joyful Longevity
Nine Dragon Wall & Imperial Garden
Admission Fee:

Peak Season
(Apr. 1 - Oct. 31)

Off Season
(Nov. 1 - Mar. 31)

Opening Hours:

Peak Season

08:30-16:30

Bus Route:

101, 103, 109, 124, 202, 211, 685, 810, 814, 846 to Gugong (Forbidden City)
Subway line 1 to Tian'anmen East or Tian'anmen West.
Recommended Beijing Tour Itineraries:
Beijing Two-Day Tours
: 2 itineraries to visit Tiananmen Square, Forbidden City, Temple of Heaven, Summer Palace, Badaling Great Wall, etc.