Nine Dragon Wall

To the east of the Six Eastern Palaces and the Hall of Ancestral Worship, another group of halls stand in order along an axis parallel to the main axis of the Forbidden City. At the southern end of this complex, there is a Nine Dragon Wall welcoming visitors. It is one of three famous walls of this style in China, with the other two in Beihai Park (Beijing) and Datong City (Shanxi Province).
Built in 1773 during the Qing Dynasty (1644-1911), this marvelous wall is 20.4 meters (66.9 feet) long and 3.5 meters (11.5 feet) high. Nine dragons, each playing with a pearl, are carved in a very lifelike manner. Yellow, blue, purple and white are applied to the carvings to depict the writhing dragons, and make the wall very attractive. The face of the wall has 270 pieces of colored glaze, five ridges and another nine small dragons on the main ridge. We know that 270 is a multiple of 9×5. Wondering about the significance of this? In ancient China, the numbers nine and five, when combined, signified the supreme status of a sovereign. An emperor was also called 'Majesty of Nine and Five'.
But this wall is not perfect. If you observe carefully, you may find the third white dragon has a piece of wood on its belly. It is said that a carpenter carved it to replace a broken piece of glaze tile. He did it on purpose, for the work must be finished on time, otherwise all the craftsmen would be punished. His part was incomplete, so he took the risk of concealing the flaw and cheating the emperor; fortunately, the emperor didn't discover it.
Imperial Garden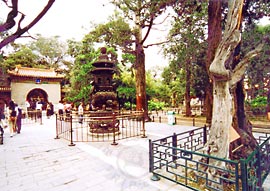 Behind the Hall of Earthly Tranquility is the Imperial Garden where the imperial family members recreated themselves. It was built up in 1420 and remains unchanged in its original layout. The garden with an area of about 1.2 hectares (2.97 acres) has more than twenty structures distributed symmetrically but not prudishly.
The garden centers Qin'an Dian (Hall of Imperial Peace), with other buildings framed by a background of old trees. Surrounding the Hall of Imperial Peace, four dainty pavilions are of a great originality in their styles and are named after four seasons of a year. The steep rockery with a chic pavilion on in the north was where the emperor and empress climbed up to view the distance on the lunar September 9th. Even the paths convey a distinct flavor. They are paved with pebbles with different colors, forming a variety of designs portraying people, flowers, scenery or stories.
Go to the Next Attractions: Six Western Palace & Six Eastern Palaces