Hall of Mental Cultivation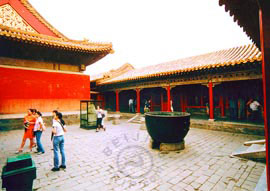 The Hall of Mental Cultivation (Yangxin Dian) once served as a workshop which manufactured myriad articles for the imperial family. Emperor Yongzheng, the third successor of the Qing Dynasty (1644-1911), moved to the hall and made it his residence. Subsequently, seven emperors lived in the hall and handled their routine work there. It has a separate courtyard with a gate as its entrance and stands to the southwest of the Hall of Heavenly Purity.
The Hall of Mental Cultivation includes a front hall, a rear hall and side rooms. In the front hall, a room in the center served as the emperor's office with a throne and other furnishings. The east chambers were where Cixi, the Dowager Empress, attended to state affairs from behind a curtain for forty-eight years. The west part of the hall was divided into several chambers, where the emperor read documents, conducted private discussions with his ministers and worshipped the Buddha respectively. One of these rooms is a study where Emperor Qianlong placed three rare calligraphy treasures written by different celebrated masters. The rear hall has five rooms which were the bedrooms of the reigning emperor. The empress lived in the east side rooms and the high-ranked concubines lived in the west side rooms.
Hall for Ancestral Worship

The Hall for Ancestral Worship (Fengxian Dian) stands to the southeast of the Hall of Heavenly Purity, with the Six Eastern Palaces to its north. Built in 1656 during the Qing Dynasty (1644-1911), the hall was where emperors enshrined memorial tablets for their ancestors. The front hall and the rear hall are connected together by a hallway, thus making a whole structure. Large-scale sacrifices were held at the front hall on the Spring Festival, the Winter Solstice and on the reigning emperor's birthday. The emperors made their profound courtesies to departed ancestors at the rear hall on the ancestors' birthdays and death-days, the Lantern Festival (lunar January 15th), the Tomb-sweeping Day (solar April 4 or 5) and on Mid-Autumn Day.
Now the hall has been converted into an exhibition hall dedicated to clocks and watches. Some were manufactured by the imperial workshop or made in Guangzhou (in Guangdong Province) and Suzhou (in Jiangsu Province); others were imported from England, France, German, Swiss, America and Japan, or were sent as gifts to the emperors. They are of different shapes and styles and amaze visitors with their consummate performance. Though they were made over two thousands years ago they still work well to this day. In addition, a video system in the hall shows how these exquisite clocks operate.
Go to the Next Attractions: Palace of Tranquil Longevity & Hall of Joyful Longevity