The Jinshanling Great Wall, 130 kilometers (81 miles) northwest Beijing, happens to be the boundary of Beijing and Hebei Province. It was given the name for its perching on the Jinshan Mountain, a branch of Mt Yanshan. The wall, 10.5 kilometers (6.5 miles) long, presents the original appearance with little renovation. This section is especially favored by the overseas tourists.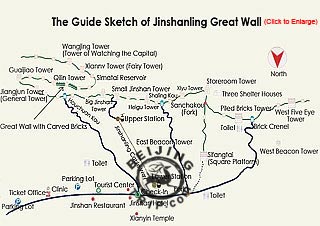 Jinshanling was a strategic vital passage in the past dynasties. In order to defend the capital Beijing, a wall was built in 1368 immediately after the Ming Dynasty (1368-1644) was founded. From 1567 to 1572, massive reconstruction was carried out under the direction of Qi Jiguang, a brilliant militarist. It brought forth the complete fortification, strengthened with more passes, watchtowers, beacon towers and other attachments.
Besides battlements, parapets, and shooting holes, the wall is featured with obstacle walls and bricks with characters on them. Obstacle walls on the coping, about 2.5 meters (8.2 feet) high, were built in rows on the slope leading to the watchtowers. In case that the attackers reached the top of the wall, the defenders still could repel the attack from behind these walls. Near the Huding Tower, bricks were marked with Chinese characters, recording the time the brick were made and the troop that built that exact section.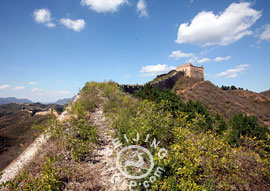 Sixty-seven watchtowers form a unique scene of the Jinshanling Great Wall. These towers are all ten meters (32.8 feet) high and mainly two-storied. The inner structures are different, either square, rectangular or round. Both the number of shooting holes and the arches of the towers varies. For getting up and down in the tower, some towers have stairways while others only have vertical holes in the roof. For the latter, rope ladders were needed. These watchtowers were used as anti-enemy towers, storerooms, or bedrooms.
The Jingsanling Great Wall is connected with the Simatai Great Wall in the east. When finishing the Jingsanling section, visitors may buy a ticket for the Simatai section to continue their hike.
Entrance Charge:




CNY 65 (Mar.16 to Nov.15);

CNY 55 (Nov.16 to Mar.15)




Cable Car:




CNY 40 per person for a single-trip




Opening Hours:

07:00-17:00

Take bus No. 980 from Dongzhimenwai to Miyun Bus Station, and then take a small bus to the Jinshanling Great Wall.

Take Long-distance bus to Chengde from Liuliqiao Long-distance Bus Station, and get off at Jinshanling Intersection, and take a taxi to Jinshanling Great Wall.
Take the tourist special bus from Dongzhimen Bus Terminal at 07:30 and get back from Jinshanling at 14:30. The bus runs at weedends and Chinese public holidays between April 4 and November 1. The ticket is CNY 100, including the round-trip bus fare, entrance fee, cable car and sight-seeing car in the scenic area.